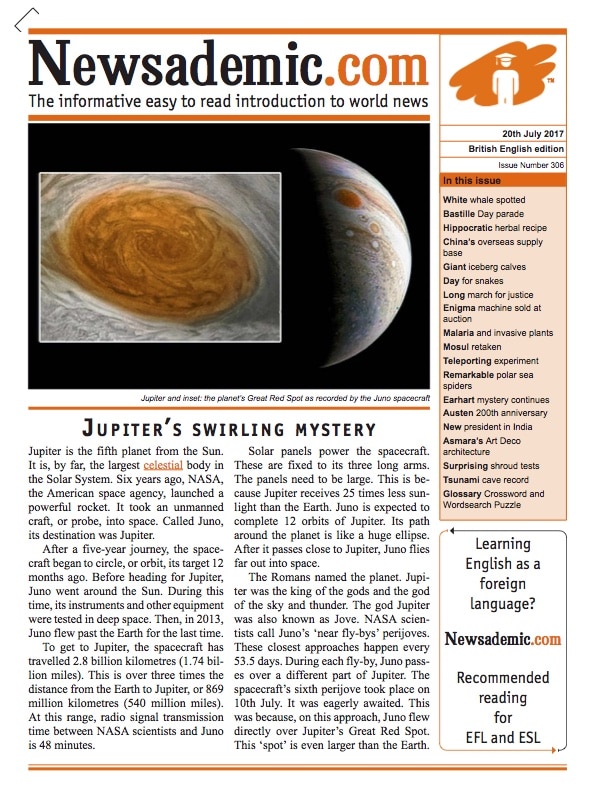 Latest issue highlights
The Juno spacecraft has flown low over one of the Solar System's most mysterious objects, Jupiter's Great Red Spot. What can scientists learn from the information it collected about this gigantic storm, so big that it could easily 'swallow' the Earth?
Also in this issue:
Bastille Day parade*
China's overseas supply base*
Giant iceberg calves*
Mosul retaken
Teleporting experiment
Austen 200th anniversary*
New president in India*
Tsunami cave record
…and much more!
(those with an * have accompanying activities/worksheets).
INDIVIDUAL & FAMILY SUBSCRIPTIONS
For students' own study and families
SCHOOL & INTERNATIONAL SCHOOL SUBSCRIPTIONS
For school wide, intranet and LMS access
EFL SUBSCRIPTIONS
For English language tutors, schools and colleges
LIBRARY SUBSCRIPTIONS
For school and public libraries
SUBSCRIPTION RENEWAL
Existing or lapsed subscriber and wish to renew? Click here:
Renewing a current subscription early?
Your renewal will automatically activate immediately after you current subscription expires.
You can therefore renew at any time.
"Newsademic has become a very popular resource at our school"
Teacher
"I have used your publication for a few years now and find it one of the best resources we have"
Teacher
"We're glad our subscription is up and running. This is a great resource!"
Teacher