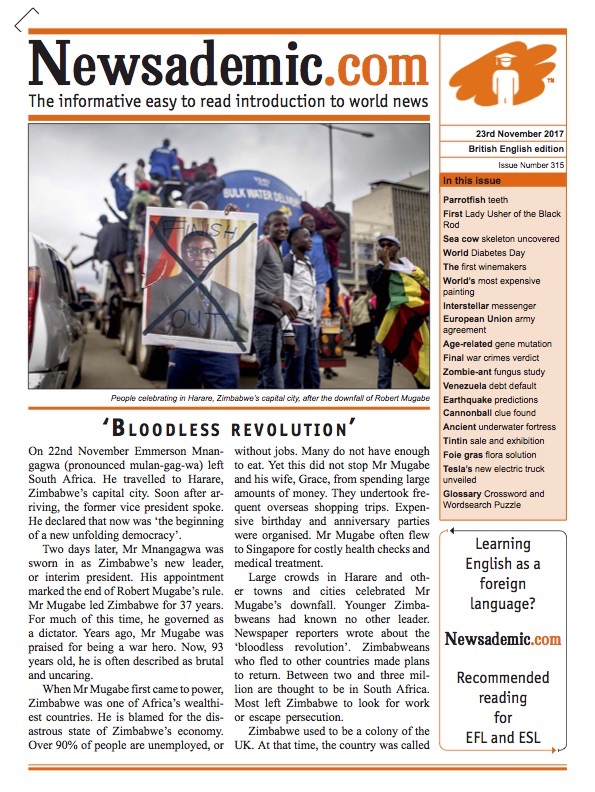 Latest issue highlights
It has been describe as a 'bloodless revolution'. After Robert Mugabe's 37-year rule, Zimbabweans are celebrating and looking forward to the future. In our latest issue, we outline the country's history, Mugabe rise to power, why he became such a controversial leader, and what ultimately led to his downfall.
Also in this issue:
First Lady Usher of the Black Rod*
Sea cow skeleton uncovered*
World Diabetes Day
World's most expensive painting*
Interstellar messenger*
European Union army agreement*
Final war crimes verdict*
Zombie-ant fungus study*
Venezuela debt default*
…and much more!
(those with an * have accompanying activities/worksheets).
INDIVIDUAL & FAMILY SUBSCRIPTIONS
For students' own study and families
SCHOOL & INTERNATIONAL SCHOOL SUBSCRIPTIONS
For school wide, intranet and LMS access
EFL SUBSCRIPTIONS
For English language tutors, schools and colleges
LIBRARY SUBSCRIPTIONS
For school and public libraries
SUBSCRIPTION RENEWAL
Existing or lapsed subscriber and wish to renew? Click here:
Renewing a current subscription early?
Your renewal will automatically activate immediately after you current subscription expires.
You can therefore renew at any time.
"Newsademic has become a very popular resource at our school"
Teacher
"I have used your publication for a few years now and find it one of the best resources we have"
Teacher
"We're glad our subscription is up and running. This is a great resource!"
Teacher