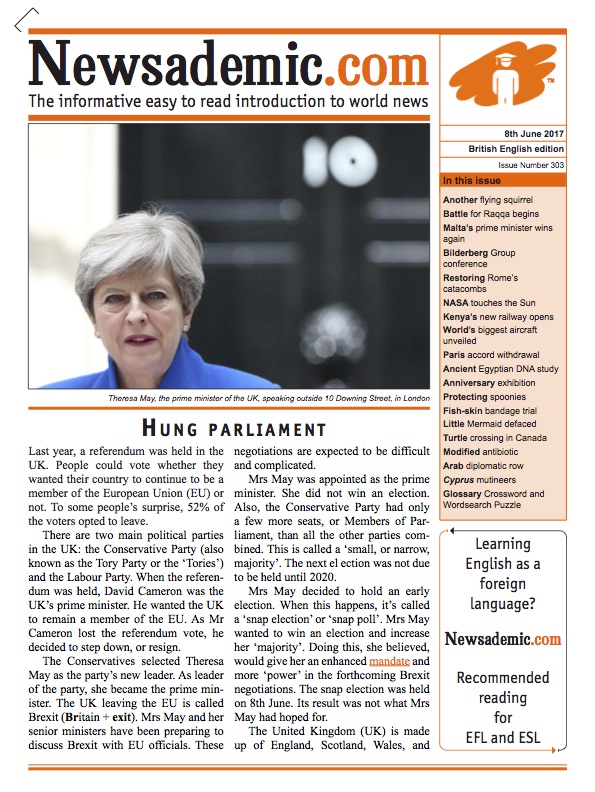 Latest issue highlights
The United Kingdom's election resulted in a hung parliament. Few people predicted this outcome. What does it mean and how will it affect the country as it starts to negotiate its exit from the European Union?
Also in this issue:
NASA touches the Sun*
Kenya's new railway opens*
World's biggest aircraft unveiled*
Paris accord withdrawal
Ancient Egyptian DNA study
Fish-skin bandage trial*
Malta's prime minister wins again*
Arab diplomatic row*
…and much more!
(those with an * have accompanying activities/worksheets).
INDIVIDUAL & FAMILY SUBSCRIPTIONS
For students' own study and families
SCHOOL & INTERNATIONAL SCHOOL SUBSCRIPTIONS
For school wide, intranet and LMS access
EFL SUBSCRIPTIONS
For English language tutors, schools and colleges
LIBRARY SUBSCRIPTIONS
For school and public libraries
SUBSCRIPTION RENEWAL
Existing or lapsed subscriber and wish to renew? Click here:
Renewing a current subscription early?
Your renewal will automatically activate immediately after you current subscription expires.
You can therefore renew at any time.
"Newsademic has become a very popular resource at our school"
Teacher
"I have used your publication for a few years now and find it one of the best resources we have"
Teacher
"We're glad our subscription is up and running. This is a great resource!"
Teacher