SPECIAL BACK TO SCHOOL OFFER!    10% off all subscriptions in September 2017.    Use code BTS17.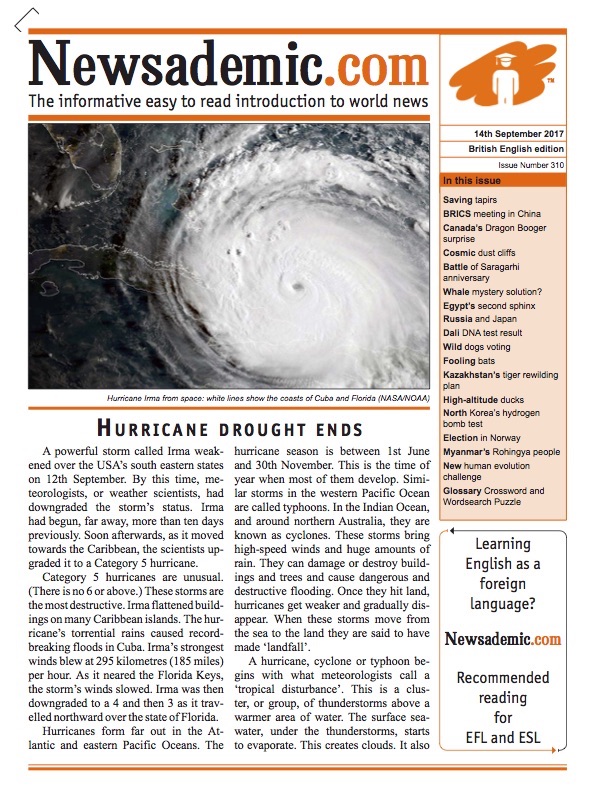 Latest issue highlights
Hurricane Irma broke several records. In the latest issue we use news of the storm to explain how these forces of nature form, what are hurricane droughts, how they are named, and in what way modern technology has reduced the threat that these huge tempests pose and the destruction they cause.
Also in this issue:
Saving tapirs
BRICS meeting in China*
Egypt's second sphinx*
Gibraltar Day*
Fooling bats*
Kazakhstan's tiger rewilding plan*
High-altitude ducks*
Election in Norway*
Myanmar's Rohingya people*
…and much more!
(those with an * have accompanying activities/worksheets).
INDIVIDUAL & FAMILY SUBSCRIPTIONS
For students' own study and families
SCHOOL & INTERNATIONAL SCHOOL SUBSCRIPTIONS
For school wide, intranet and LMS access
EFL SUBSCRIPTIONS
For English language tutors, schools and colleges
LIBRARY SUBSCRIPTIONS
For school and public libraries
SUBSCRIPTION RENEWAL
Existing or lapsed subscriber and wish to renew? Click here:
Renewing a current subscription early?
Your renewal will automatically activate immediately after you current subscription expires.
You can therefore renew at any time.
"Newsademic has become a very popular resource at our school"
Teacher
"I have used your publication for a few years now and find it one of the best resources we have"
Teacher
"We're glad our subscription is up and running. This is a great resource!"
Teacher