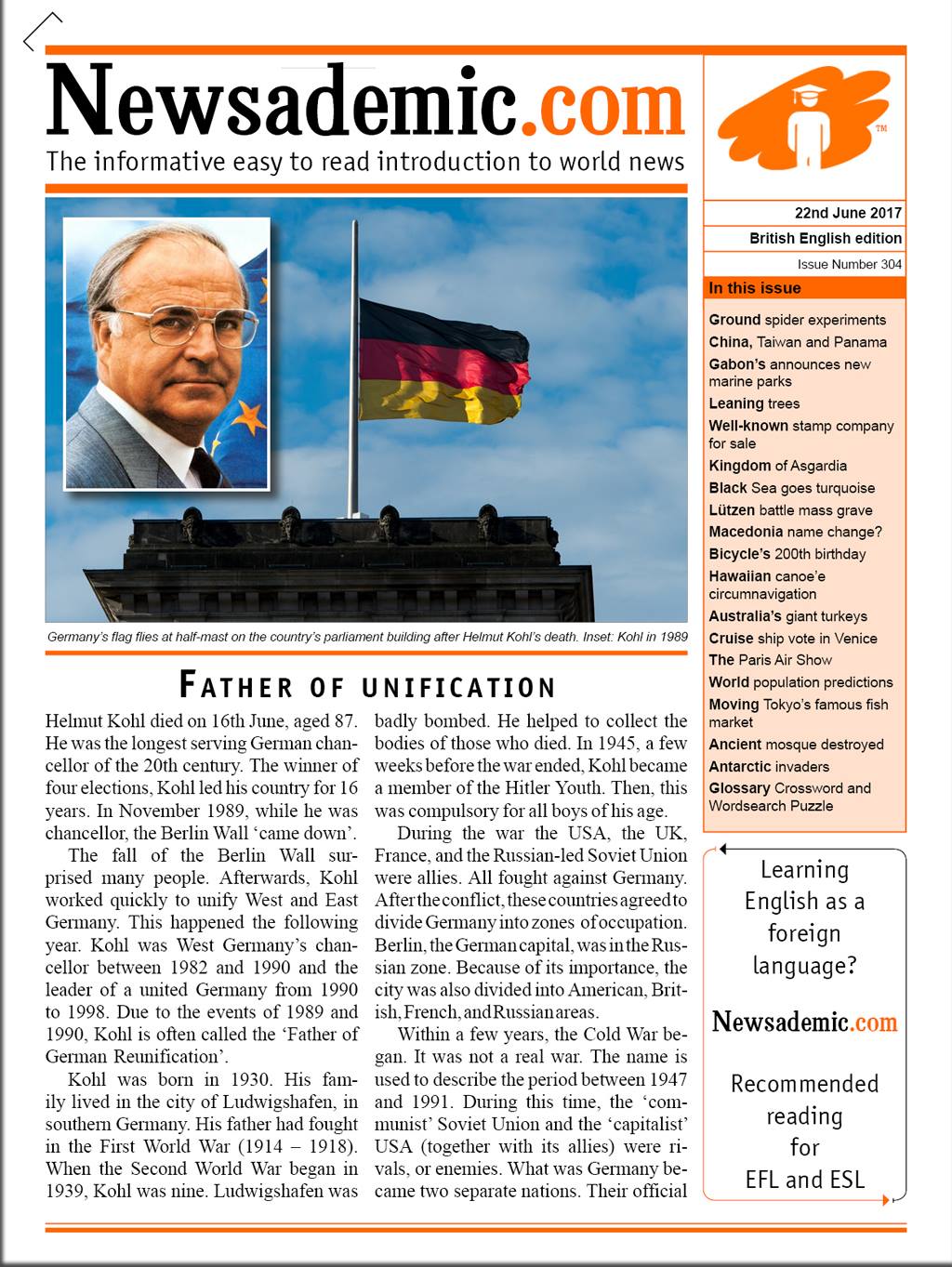 Latest issue highlights
The unifier, Helmut Kohl, has died aged 87. A towering figure during the Cold War, and the German chancellor on the day the Wall fell and the signing of the Maastricht Treaty. We review Kohl's life and the part he played in these two momentous, historical events.
Also in this issue:
China and Panama
Leaning trees
The Kingdom of Asgardia
Macedonia name change?*
Bicycle's 200th birthday*
Hawaiian voyaging canoe circumnavigation*
The Paris Air Show*
World population predictions*
…and much more!
(those with an * have accompanying activities/worksheets).
INDIVIDUAL & FAMILY SUBSCRIPTIONS
For students' own study and families
SCHOOL & INTERNATIONAL SCHOOL SUBSCRIPTIONS
For school wide, intranet and LMS access
EFL SUBSCRIPTIONS
For English language tutors, schools and colleges
LIBRARY SUBSCRIPTIONS
For school and public libraries
SUBSCRIPTION RENEWAL
Existing or lapsed subscriber and wish to renew? Click here:
Renewing a current subscription early?
Your renewal will automatically activate immediately after you current subscription expires.
You can therefore renew at any time.
"Newsademic has become a very popular resource at our school"
Teacher
"I have used your publication for a few years now and find it one of the best resources we have"
Teacher
"We're glad our subscription is up and running. This is a great resource!"
Teacher