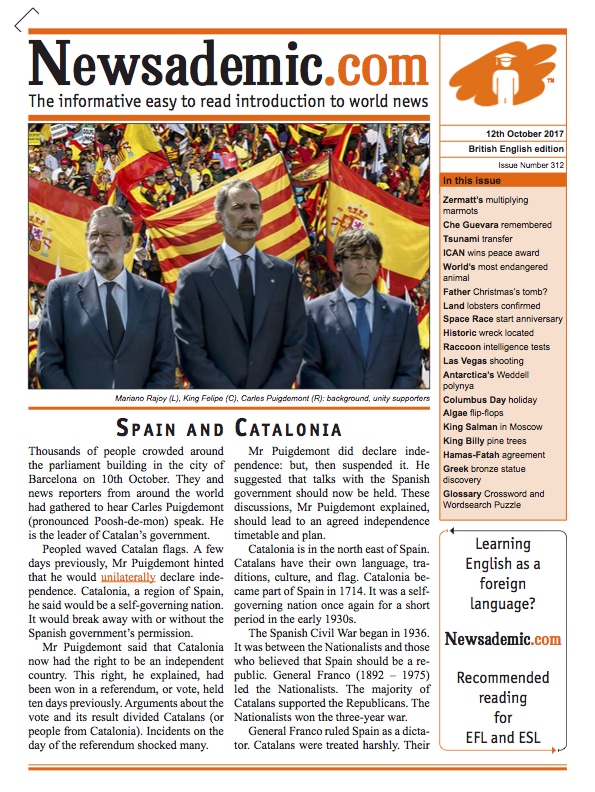 Latest issue highlights
Catalonia's leader announced a declaration of independence but then suspended it. His announcement followed a controversial referendum vote. We explain why many, but by no means all, Catalans want self-rule, how their actions have angered people in the other parts of Spain and why the Spanish government insists that it's impossible.
Also in this issue:
Che Guevara remembered*
ICAN wins peace award*
World's most endangered animal*
Father Christmas's tomb?*
Land lobsters confirmed
Space Race start anniversary*
Columbus Day holiday*
Algae flip-flops*
Hamas-Fatah agreement
…and much more!
(those with an * have accompanying activities/worksheets).
INDIVIDUAL & FAMILY SUBSCRIPTIONS
For students' own study and families
SCHOOL & INTERNATIONAL SCHOOL SUBSCRIPTIONS
For school wide, intranet and LMS access
EFL SUBSCRIPTIONS
For English language tutors, schools and colleges
LIBRARY SUBSCRIPTIONS
For school and public libraries
SUBSCRIPTION RENEWAL
Existing or lapsed subscriber and wish to renew? Click here:
Renewing a current subscription early?
Your renewal will automatically activate immediately after you current subscription expires.
You can therefore renew at any time.
"Newsademic has become a very popular resource at our school"
Teacher
"I have used your publication for a few years now and find it one of the best resources we have"
Teacher
"We're glad our subscription is up and running. This is a great resource!"
Teacher