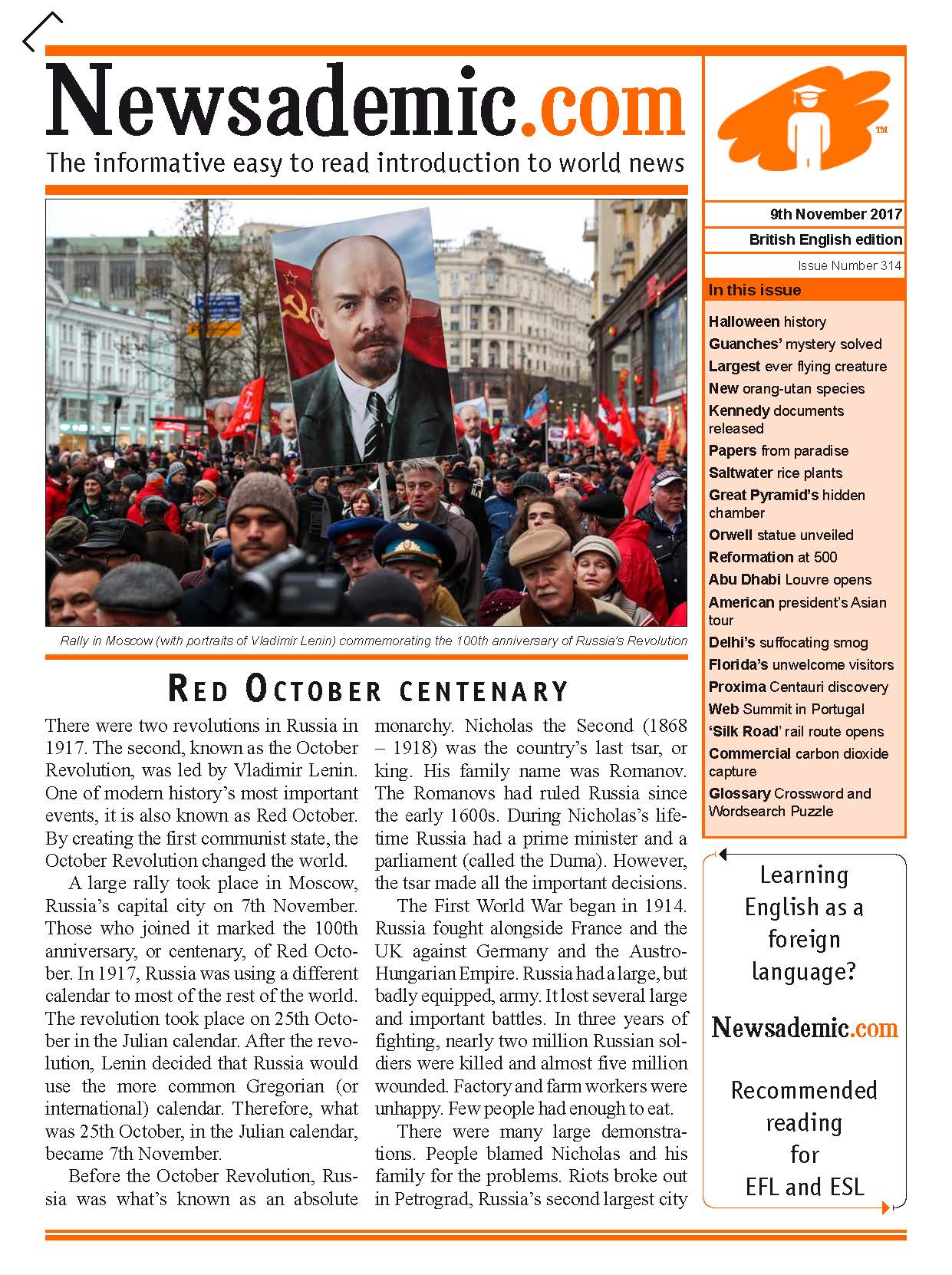 Latest issue highlights
A large rally took place in Moscow, Russia's capital city, on November 7th. Hundreds of people marched to commemorated the 100th anniversary of their country's revolution. Who was celebrating the centenary of Red October, and why were there no official ceremonies? In our latest issue, we explain how this event became one of modern history's most important incidents and what it eventually led to.
Halloween history*
Largest ever flying creature*
Kennedy documents released*
Great Pyramid's hidden chamber*
Reformation at 500*
Abu Dhabi Louvre opens*
Delhi's suffocating smog
Proxima Centauri discovery
'Silk Road' rail route opens*
…and much more!
(those with an * have accompanying activities/worksheets).
INDIVIDUAL & FAMILY SUBSCRIPTIONS
For students' own study and families
SCHOOL & INTERNATIONAL SCHOOL SUBSCRIPTIONS
For school wide, intranet and LMS access
EFL SUBSCRIPTIONS
For English language tutors, schools and colleges
LIBRARY SUBSCRIPTIONS
For school and public libraries
SUBSCRIPTION RENEWAL
Existing or lapsed subscriber and wish to renew? Click here:
Renewing a current subscription early?
Your renewal will automatically activate immediately after you current subscription expires.
You can therefore renew at any time.
"Newsademic has become a very popular resource at our school"
Teacher
"I have used your publication for a few years now and find it one of the best resources we have"
Teacher
"We're glad our subscription is up and running. This is a great resource!"
Teacher