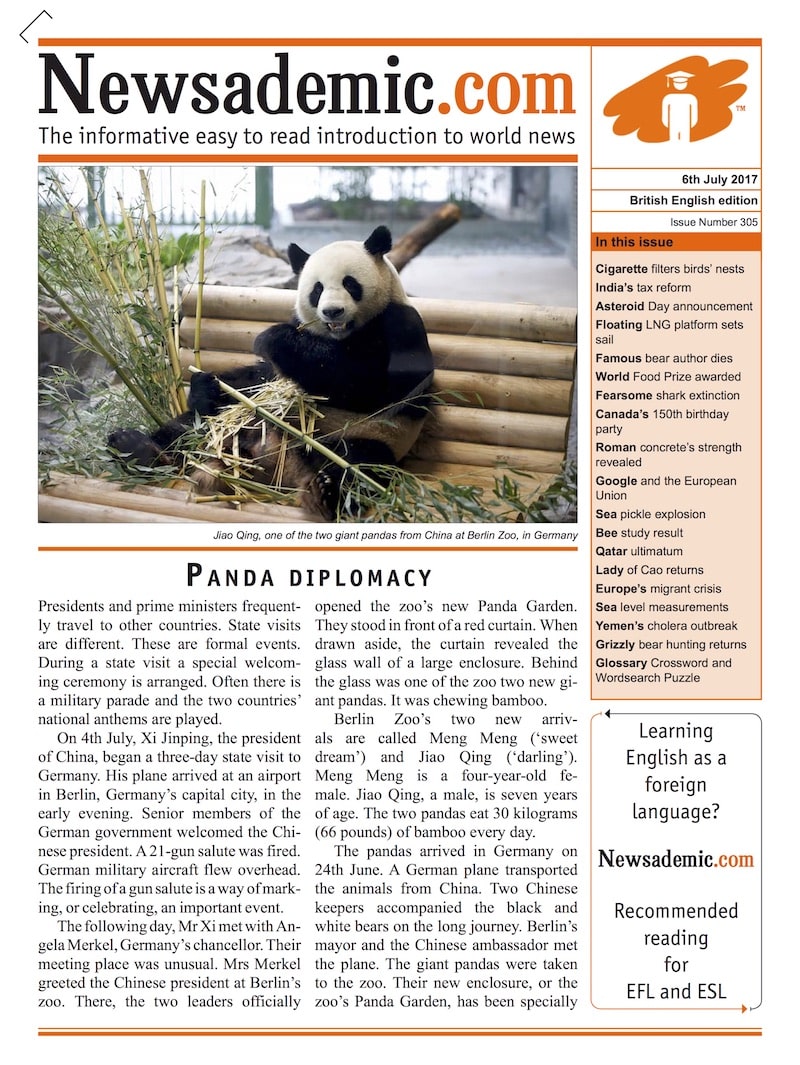 Latest issue highlights
Panda diplomacy. What is it? Why, in the past, did it help create 'the week that changed the world'? In this issue we use the latest example of a president, a chancellor, Meng Meng, and Jiao Qing, to provide an explanation.
Also in this issue:
India's tax reform*
Asteroid Day announcement*
Canada's 150th birthday party*
Qatar ultimatum
Lady of Cao returns
Bee study result*
Google and the European Union
Sea pickle explosion*
…and much more!
(those with an * have accompanying activities/worksheets).
INDIVIDUAL & FAMILY SUBSCRIPTIONS
For students' own study and families
SCHOOL & INTERNATIONAL SCHOOL SUBSCRIPTIONS
For school wide, intranet and LMS access
EFL SUBSCRIPTIONS
For English language tutors, schools and colleges
LIBRARY SUBSCRIPTIONS
For school and public libraries
SUBSCRIPTION RENEWAL
Existing or lapsed subscriber and wish to renew? Click here:
Renewing a current subscription early?
Your renewal will automatically activate immediately after you current subscription expires.
You can therefore renew at any time.
"Newsademic has become a very popular resource at our school"
Teacher
"I have used your publication for a few years now and find it one of the best resources we have"
Teacher
"We're glad our subscription is up and running. This is a great resource!"
Teacher